1. We have no internet at home. This distresses me. It seems like it shouldn't be that big of a deal, right up until your husband demands that you watch the little league championships (do other people watch this?!) and is astounded to find out you have zero interest in watching them. Quite frankly I'm astounded that he has any interest in watching them, considering I'm pretty sure before two days ago he had no clue that they were even going on and last night he was yelling and cheering from the couch. Needless to say, when these type of things happen I usually just get online. Until last night. Instead I just scooped up the second Harry Potter book and went to bed.
Then this morning I had the genius idea to get out my Nook and see if I could get online there. You know, because it connects to the internet. Um, the Nook connects to your local internet connection, it is no iPad or smartphone. I am an idiot.
2. I seem to have bruised my foot/ankle. I'm not sure when it happened, I just noticed a few days ago that it was tender and then yesterday, after berating my dr. with text messages and believing whole heartedly that I was dying, I examined it a little further and realized there's an actual bruise on my foot. Ok there's multiple bruises. I guess my body is displeased that I am somewhat running again and decided to throw a wrench in things to switch it up a bit. It can't possibly be that I tripped, fell, or twisted my ankle after floating this past weekend. Not at all.
3. Yesterday before I left work I thought to myself, "you know, you really need to get in a second day of strength training this week." and then I bargained with myself and agreed it could be something easy. So I started going through blogs looking for quick workouts I could do. I ended up taking this workout from Julie and adding a few extra moves to the ones she already had to get it up to 20 minutes.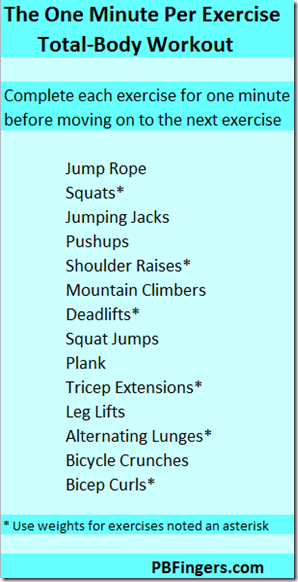 courtesy of PBFingers.com… obviously
So much for being "easy", I was sweating buckets by the end of this and I'm a little sore today.
And now it's time for me to get a pedicure. It'll be the first one since before I ran the marathon, how crazy is that?!